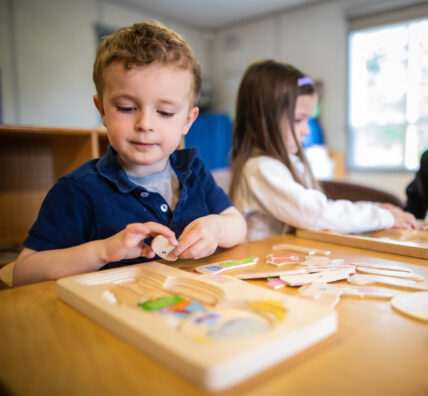 At a Glance
Encouraging Discovery and Play
Play is at the heart of everything we do at the Early Learning Centre. We know that children who play learn valuable self-regulation and problem-solving skills in the process. This translates to emergent literacy, vocabulary and early mathematics skills and is a predictor for continued success in later years.
Program Benefits
A Safe, Nurturing Environment
01
Our team of qualified and passionate Early Childhood Educators includes teaching staff who have been working together for over ten years.
02
Students have many opportunities for play-based, hands-on learning, both indoors and outdoors, in our safe and caring setting.
03
Small class sizes and plenty of opportunities for family involvement contribute to the Early Learning Centre's supportive and personalized learning environment.
Programs
Enriched Educational Opportunities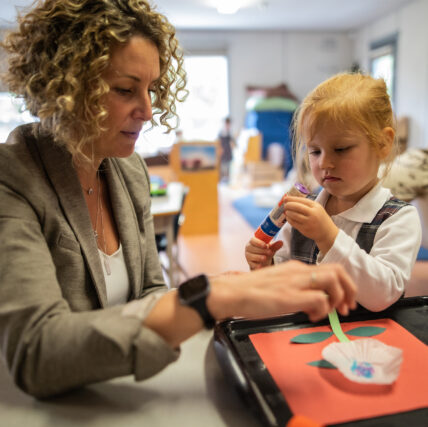 Meet Alison Strobl
EARLY LEARNING CENTRE DIRECTOR
As Aspengrove School's Early Learning Centre Director, Alison Strobl oversees the Early Learning Team and our Junior Kindergarten and Out of School Care Programmes. Alison has been with Aspengrove School for 16 years—first serving in various educational roles specific to Early Childhood Education, including Lead Junior Kindergarten Teacher for five years, before assuming her role as Early Learning Centre Director in 2020.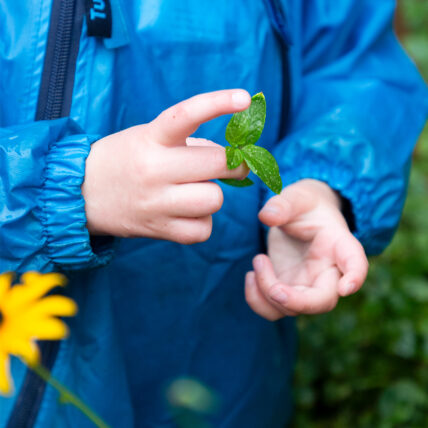 Outdoor Learning
Connecting with Nature
At the Early Learning Centre, we value time spent outdoors, with weekly forest classes and opportunities to play outside, rain or shine, right here on our beautiful 40-acre campus! We know that with increased exposure to nature and the outdoors, children's creative thinking, motivation, and well-being are boosted. Alongside our outdoor classes, our students participate in various indoor activities delivered by our team of dedicated, specialist Early Childhood Educators.


"We discovered Aspengrove when we moved to Nanaimo and were looking for childcare for our then 3-year-old daughter. From the first day the care and attention that the dedicated staff has shown our family has contributed to our daughter's growth as a person and student. The IB principles along with the connection the staff fosters with students has had an incredible impact on her confidence and engagement with learning."

"The Junior Kindergarten program has prepared my children by setting them up for success for their future years at school. It was important to us that our children attend a daycare that provided a play-based educational curriculum and focused on developing and improving social interactions. The teachers at the ELC have always been fabulous, caring and patient individuals with a genuine desire to teach and nurture each child."

"These first few years at Aspengrove have been incredible, we started our journey in summer camp when our daughter was 3 years old, she went onto JK3 and now she is heading into JK4. The exceptional staff teach and lead with care, attention, excellent communication skills, and are connected to each child. There is something extremely special about this school."
Previous Slide
Next Slide
Junior Kindergarten Programs
Junior Kindergarten 3-4 Program Options
Families can choose between 3 program options at both the Junior Kindergarten 3 and Junior Kindergarten 4 levels:
Programs
Extended Day Program
Monday – Friday: 8:15 p.m.–5:00 p.m.
Full Day Program
Monday – Friday: 8:15 a.m. – 3:15 p.m.
Half Day Program
Monday – Friday: 8:15 a.m. – 11:15 a.m.
Aspengrove School is a participating school under the Child Care Fee Reduction Initiative, which can reduce the cost of daycare for students enrolled in JK and Kindergarten students who are enrolled in Out of School Care.
The subsidy will be automatically credited to your account based on enrollment. Students enrolled in Full-Time Daycare can receive up to $545 per month towards the cost of daycare.
Summer Program
Our summer program includes a variety of fun learning activities such as independent inquiry, nature walks, gym time, art projects, and reading. Sign up begins May 2024.
Our Faculty and Staff
Meet the Aspengrove team, whose enthusiasm for learning, diverse skill sets, and student-centred care enrich our school community.